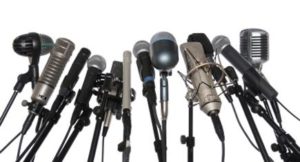 FULL TRANSCRIPT
SPOKESPERSON:  
I want to welcome all of you to the Family Press Briefing Room.   A few items of note before we begin.  One, please take off your shoes before stepping on the rug, and please use coasters for any warm beverages you may be drinking, these side tables don't pay for themselves.  And consider this a warning, you may think the dog is cute and fluffy, but if you pet him once, he'll be stuck to you for the rest of afternoon like white on rice, with a strong likelihood of the occasional hump.  So choose your actions carefully.
Before we start, I want to make it clear that the report published on BuzzFeed last night is completely false.  No member of the family has either been to Chuck E. Cheese's, communicated with its leaders, or enjoyed "special" time with any of its employees.  We deny any suggestions that Mr. Cheese has manipulated the family into changing any of their weekend plans.  I can also confirm that, despite CNN's recent assertion to the contrary, at least 1 million people attended the family's  outdoor barbeque last month.  It was awesome.
Now, it is my honor to introduce (and likely be yelled at in the near future by), the Teenagers.
(APPLAUSE)