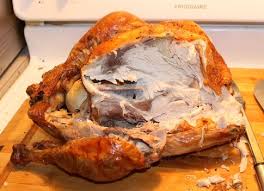 How was your turkey on Thanksgiving?  Was it moist and delicious?  Was the skin nice and crispy?  Did the leftovers last throughout the weekend?
Well good for you, I'm glad someone enjoyed their feast.  As for me, I didn't get any turkey this year.  While you had thick brown gravy dripping out of the side of your mouth (and let's face it, turkey is really just a delivery system for the gravy to begin with), I stared at my turkey-less plate and wondered how Thanksgiving had gone so wrong.
But I knew what had happened.  A turkey thief had emerged in our home for the holiday…and I had been the one to open the door for him.  Literally.